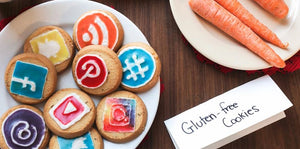 Gluten-Free Diet Basics, Foods and Benefits
What is a Gluten-Free Diet?
Gluten is a certain type of protein composite found in particular sorts of grain such as: wheat, barley, rye and all their species and hybrids and cereals. However interestingly – oats remain controversial so far. Individuals with celiac disease (the digestive disorder) and dermatitis (skin rash or irritation) are gluten-sensitive and a gluten-free diet is the only strict treatment for their condition. "Intake of gluten in those patients causes a severe reaction that damages intestinal cells and trigger adverse health problems," says Michael Greger, M.D. and internationally recognized speaker and lecturer of important public health issues. A lead dietitian and M.D. Christy Shatlock describes gluten-free diet this way: "when someone follows gluten-free diet - they eliminate various sorts of foods from their diets that are unhealthy."  Gluten-free diet may seem limiting and difficult however – you have tons of delicious and healthy recipes which are 100% natural and contain no gluten!
Natural and Gluten-Free Food Groups
Continue reading and be familiar with the gluten-free food sources approved by Celiac Disease Foundation:
Healthy fat: sesame oil, extra virgin olive oil, coconut oil, grass-fed/organic or pasture-fed butter, almond milk, avocados, olives, ghee, nuts and nut butters, cheese (however not the blue ones), sunflower seeds, pumpkin seeds, flaxseed and chia seeds.
Protein: whole eggs, salmon, sardines, shrimp, lobster, crab, oysters, grass-fed meat, poultry, pork, chicken, turkey, duck, beef, lamb, liver black cod and more!
Vegetables: spinach, broccoli, kale, lettuce, onions, cabbage, asparagus, garlic, collards, leafy greens mushrooms, green beans, celery, ginger, water chestnuts, fennel, radishes, pak choi, cauliflower and shallots among many more!
Low-Sugar Fruits: cucumber, tomato, bell peppers, avocado, eggplant, limes and lemons, squash and zucchini.
Condiments, Seasonings and Herbs: gluten-free salsa, mustard, tapenade, horseradish. In majority of cases – herbs and seasonings are free of gluten, however – do not forget to double check it!
Food Sources to Avoid
Wheat, barley, rye, cereal, triticale, breads, beer, bagels, crackers, cakes and candies, dressing, pizza, pasta, ice cream cones, sauces, soy sauce, pancakes and waffles, rolls, licorice, pretzels, malts, veggie burgers, vegetarian chicken/bacon patties and more.
Also – avoid foods that contain bulgur, semolina, spelt, kamut, durum and barley.
Gluten-Free Diet Benefits
As we have mentioned earlier, gluten-free diet has become a trending form of diet lately. Gluten-free diet benefits include:
Treatment of celiac disorder (the digestive disorder) and dermatitis (skin rash or irritation)
Better digestion and gastrointestinal function
Absence of acid reflux
Generally healthier eating-habit and lifestyle
Stronger system
Better sleep
Relief of diarrhea-predominant irritable bowel syndrome
Healthy weight-loss.
Further reading
Brian Bosworth, M.D., is a gluten-free doctor and patient points out: "gluten-free diet has long list of food options to offer." Gluten-free food market has rapidly expanded in the past couple of years and now it is worth nearly USD 300 millions. Note that - even a small amounts of gluten found in foods can cause severe discomfort and pains. 
---